Manufacturers have changed how they market their products. It used to be that they developed a product and then sold to people they knew had a need. A demo would be scheduled, and after an analysis and a handshake the deal was completed. Tradeshows and lunch 'n learns were the primary way to promote new products, maintain relationships with customers and meet new prospects.

If the company really wanted to get ambitious they might advertise in an industry publication or issue press releases. To sum it up, manufacturers focused their efforts in developing their sales people and providing sales training to drive revenue growth. They were invested in sales to drive revenue and growth.

Along the way, a lot changed… customers transformed how they purchase products. They no longer wait for manufacturers to come to them, instead they seek out information to find new products and make purchase decisions.

This transformation shifts some of the control from the supplier to the buyer. As a result, manufacturers can't rely on old methods and need to find new ways to engage with prospects who may have initiated the buying process on their own. It's no longer enough for manufacturers to invest in sales, they need to invest in new marketing methods and focus more on informing and educating prospects.

And the process no longer takes place at trade shows and lunch 'n learns, but rather online. It's a new landscape that is in constant flux and requires new innovative ideas in marketing, which includes making the shift to primarily digital marketing.

Change is not an option. For manufacturers to be successful today, change is a necessity.
The state of manufacturing marketing in 2022
Marketing is a function whose time has come in the business-to-business (B2B) world.

Manufacturers as a whole have tended to adopt digital marketing at a slower pace relative to other B2B focused industries, though the gap is closing. In 2021, 36% of B2B manufacturers had a documented content marketing strategy. At the same time, another 30% of B2B manufacturers claimed to have an undocumented content marketing strategy.
Marketing is a function whose time has come in the business-to-business (B2B) world.

Manufacturers as a whole have tended to adopt digital marketing at a slower pace relative to other B2B focused industries, though the gap is closing. In 2021, 36% of B2B manufacturers had a documented content marketing strategy. At the same time, another 30% of B2B manufacturers claimed to have an undocumented content marketing strategy.
Percentage of manufacturing marketers with a content marketing strategy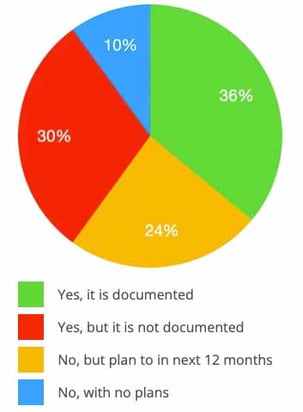 Base: Manufacturing content marketers

12th Annual Content Marketing Survey: Content Marketing Institute/Marketing Profs, July 2021
Difference in manufacturing content marketing strategy now vs pre-pandemic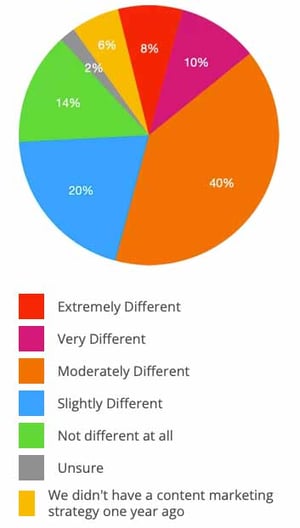 Base: Manufacturing content marketers whose organizations have a content marketing strategy

12th Annual Content Marketing Survey: Content Marketing Institute/Marketing Profs, July 2021
Looking to the next 12 months, 22% of B2B companies plan to implement a new content marketing plan, while 24% of B2B manufacturers plan to add a new content marketing plan.

What does this mean? Manufacturers are warming to exciting new opportunities to get noticed.

Slowly but surely B2B manufacturers are picking up the pace and implementing digital marketing.
What is digital marketing
Digital marketing is marketing that takes place online. Tools at companies disposal include the companies website, social media, video, email marketing, blogging, paid advertisements and more. These tools form a cohesive, modern way to interact with prospects and customers. It no longer matters if the marketers and customers are in the same city, across the country, or even the far side of the world. Your marketing information can be available 24/7 for prospects to find, consume and engage with.
Prospects and customers also demand it. They don't call you up or send an email telling you this, but they are online and they are searching. If your information isn't online, or isn't being found, then you're not in the conversation. Your prospects determine when they want and need information, and finding it is only a couple of keyboard clicks away. By the time your product mailer or sales call arrives, it may already be too late.
Buyers today shop the same way from a business perspective as they do as a consumer. For your company to be noticed your products and services have to be available online to be found and reviewed. And your information needs to contain relevant content, including pricing and competitive information.
Recent research by Demand base and Demand Gen looked at what B2B buyers want when they visit a website:


Top 3 Criteria when making a purchase decision
Top 3 resources buyers utilize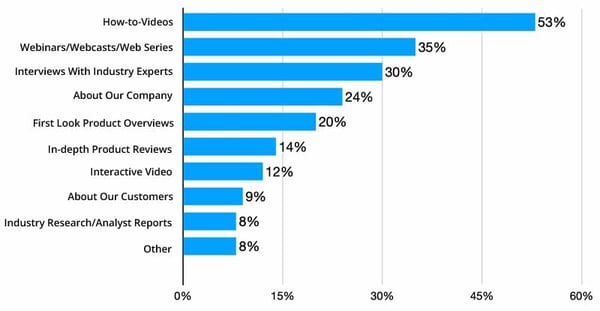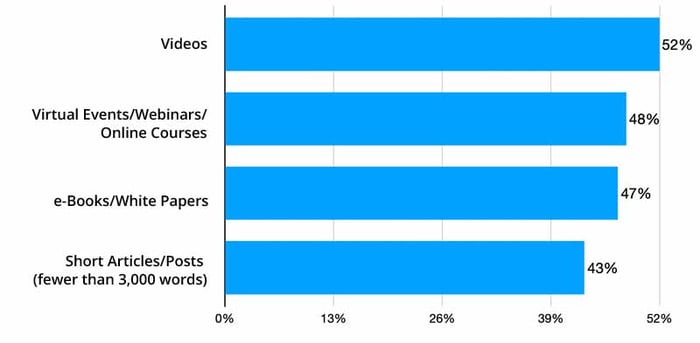 Did Vendors Website Impact Your Decision?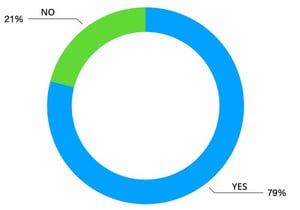 It's important that purchasers are able to find your info quickly and easy. If they reach your website and find it difficult to navigate, they will move on to the next vendor.

If they land at your site and are able to locate relevant info, then you are past the first hurdle. That doesn't mean they will reach out and contact you, but rather they will begin to further judge how your products or services may help them solve a problem or address an opportunity. But you are still in the game.

As they read through your site, their focus will shift from "is your content relevant" to "does your content address their needs." Here it is important that your content focuses on the prospects' needs rather than the need and interprets of your company. There may be a lot of information you want to share, but at this point, if the presented information doesn't help the client address their issue/opportunity, then it's not relevant. There will be time later to toot your own horn.
The top things buyers look for when evaluating potential solutions on vendor websites are relevant content and pricing/competitive information.
5 things digital marketing can do for your company
Increase company awareness
Many manufacturers have always relied on salespeople to spread the word about their products and services. This does have the benefit of controlling and adjusting information in real time, but isn't efficient, and it cannot match what you can achieve with digital marketing. Traditional sales method also do nothing to address the hidden market that is online searching for information. No salesperson is available 24/7 to any and all prospects. Your website and digital marketing are.

And since prospects are conducting much of their research online, you are in a much better position to supply the right info at the right time to an inquisitive prospect.
Increase credibility
Prospects that are searching online make quick credibility decisions. They will very quickly judge your company based on how fast your website loads and how it looks. They will judge your companies credibility based on the content on your site, and even the content that is not on your site.

Establishing a thought leadership position with the content you share on your site and social media can help you position your company as a leader in your industry. Blog posts, webinars, videos, case studies, testimonials and client logos can all provide a positive boost to prospects perception of your company. These offerings can often make or break a company's opportunity with a new prospect.
Build lead generation
If you have attracted a prospect to your site and addressed their needs with relevant and credible content, you are in a prime position to capture the prospect as a lead. The art of crafting a compelling Call-to-action is critical. In order for an exchange to take place their has to be value derived on both sides… in exchange for your valuable information the client is willing to share their name, phone number or email. Generating leads is simply impossible if you have not built credibility and awareness first.
Attract new talents
While most people think in terms of marketing to prospective buyers, digital marketing can also help your company attract new talent. Prospective employees want to know more than just about benefits and salary. They want to know more about the history of your company and what it stands for. They want to know what it's like to work for your company. The same steps you take to market to prospects can be utilized in targeting prospective employees.
Drive growth
Efficient marketing is successful marketing. You need to be efficient in your targeting and your execution. Your prospects are online conducting their own research in order to make purchase decisions. It only makes sense that you help them find you by updating your marketing strategies and tactics. Doing so will allow you to maintain and expand your marketing reach.
No salesperson is available 24/7 to any and all prospects. Your website and digital marketing are.
Why switch your manufacturing marketing to digital
It comes down to the need to expand your market, generate more leads, close more sales, and ultimately increase revenue. These are the same goals as when trade-shows, lunch-and-learns, etc. were the standard marketing norm.
More effective marketing
Marketing is all about getting your message in front of the right prospects in as cost-efficient a manner as possible. It's no different today than it was when television supplanted radio as the primary means of mass communication. Radio advertising didn't disappear when television came along, it just fragmented the audience and companies had to expand the scope of their initiatives. Today manufacturers are seeing that:
Trade-shows are no longer what they were two or three years ago.

Still good for a fun time, first impressions and networking but not as much for generating leads.

Print magazines are no longer as effective as industry news, articles and social media, which are far more current and relevant than a monthly or quarterly publications.
Cold calls are no longer as effective as the used to be. Cell phones have made it easy for people to ignore calls. Sure, you may be able to leave a voice mail but don't be shocked if your sales call isn't returned.

Align your marketing with buying cycles
B2B buying cycles are a long and complicated process. All buyers go through the same six steps:
They identify a need for a product or service.
They start to research solutions.
They identify potential companies that can provide what they need.
They evaluate the companies identified.
They narrow the list down to a few options.
They make a decision.
You might encounter prospects at any point in the buying cycle and if you've built out your digital marketing correctly, they can find relevant information regardless of their place in the cycle. Buyers might not have encountered your company until after they've narrowed their list, but if they've found you, your marketing is working and stood out by addressing their need or search.
It's all about meeting your prospects where they are (where they are searching and where they are in the process) and having relevant content that is informative, educational, insightful and even entertaining.
According to a marketing study conducted by the Content Marketing Institute, 26% of manufacturers fail to create content based on the specific stages of the buyers journey. Another 40% only do it sometimes.
Reduce time & cost
Traditional marketing can be very expensive and many of the activities have a specific time frame or shelf life before they look and feel dated and old. With digital marketing, any updates or changes can be made quickly and efficiently and old or dated material stops being available. Printed content changes or updates can get expensive, while digital content is easily updated on an on-going basis. Simply removing the printing costs associated with many traditional marketing methods can present a huge savings opportunity.
Pinpoint tracking and measurement
Digital marketing is the most measurable form of marketing. While measuring marketing is nothing new, it is much easier to track digital vs. traditional marketing campaigns and activities. The end result is that you can make better marketing decisions on where to spend your marketing dollars. You can easily track which ads or links are clicked on, how long a prospect spent on a page or the pages they visited, which prospects entered your sales pipeline by signing up for a newsletter, who request a brochure, or filled out a form and much more. This ability is much more efficient than trying to determine if a prospect came from seeing a tv ad, a magazine article or some other offline method.
Let sales be sales
There will always be a need for sales people. Digital marketing doesn't eliminate the need for sales people, but rather it to allows them to focus on closing business deals from leads generated by marketing.
You might encounter prospects at any point in the buying cycle and if you've built out your digital marketing correctly, they can find relevant information regardless of their place in the cycle.
Manufacturing marketing starts with getting the basics right
Much of what we've discussed has been about shifting the mind set of manufacturing marketing, and understanding how marketing can be a strategic tool for growth. Instead of being seen as an expense, marketing can be a revenue and lead generator. It starts with getting the basics right.
Market to somebody, not just anybody
For the most part manufacturers, products and services tend to have a long buying cycle, and the prospects you encounter could be at various points of the buying cycle. While your prospects will be a diverse group, there is value in classifying the purchasers into distinct groups. Develop buyer personas to help you craft the right messages for each persona. Doing this will also help you determine which tactics will be best to reach and engage with them.
A careful review of your existing client base can help learn what to say to whom. It's also a good practice to talk with your sales reps, your customer service team and anyone else that has contact with your customers. Their added insights can help you flesh out the details of each persona and what message will resonate. Utilize these personas in conjunction with your understanding of the buying process to drive projects through the sales funnel.

Create an active and up-to-date online presence
There are a lot of components to an online digital strategy but the central hub should be your website. All of your marketing efforts should be done with the goal of driving prospects to your website, whether you want them to see a page or section, or to a landing page. Just make sure that when they get there your prospects easily find the types of content that they want.
Here are a few things prospects expect from your website:
They want to see the products and services you provide. This is your chance to educate them, so include items like videos (How-to videos are great), case studies, webinars, product sheets and more.
They want to see pricing information. For many manufacturers pricing can be complicated and putting out defined prices is next to impossible. Consider providing ranges so that they can see if what you offer is in their budget.
They want to see that you are credible. Your content is a key component in establishing credibility. If they like your content they will intuitively have a favourable impression of your manufacturing company. Be sure to include testimonials to provide third-party validation. Industry organization logos and iso-standard logos are important as well. This is a place where you want to "show, not tell."
They want to see transparency. Having active social participation allows prospects to see how you engage within the community. This includes having clear paths to addressing questions and concerns as well as is your customer service team responding in a timely, professional manner.
Develop content that is informative and authoritative
Content marketing is a critical piece in developing a thought leadership position. You want to be considered as a go-to resource when prospects are looking for answers to questions that your products or services solve. A blog is a great way to share news, articles and content that addresses the issues within your industry as well as the problems your clients and prospects deal with on a day-to-day basis. Video is quickly becoming a major component in digital marketing.
Content Assets Manufacturing Marketers Created/Used in the Last 12 Months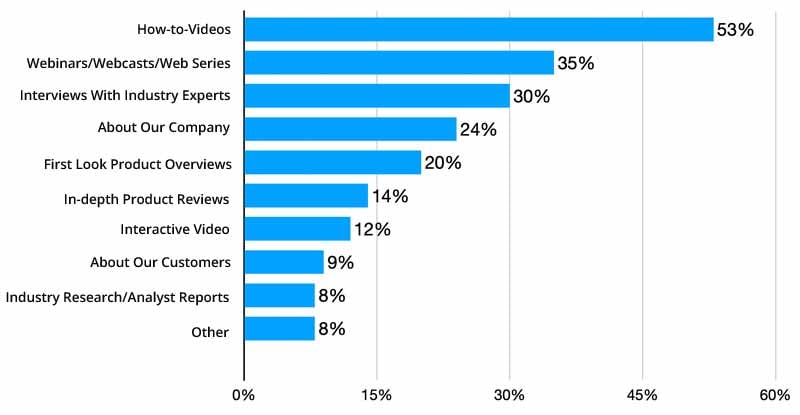 Base: Content marketers. Aided list; multiple responses permitted.
12th Annual Content Marketing Survey: Content Marketing Institute/MarketingProfs, July 2021
52% of respondents indicated that video produced the best content marketing results. Here are how different types of videos stacked up in terms of the best results.
Manufacturing Content Assets that produced the best results in the last 12 months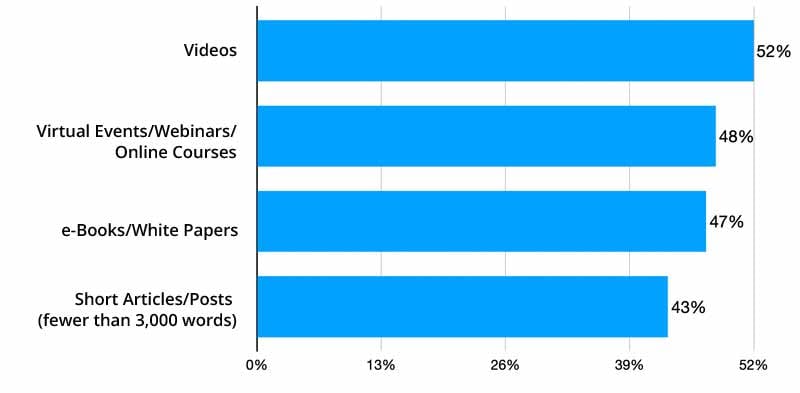 Base: Manufacturing content marketers who use each content asset listed. Multiple responses permitted. 12th Annual Content Marketing Survey: Content Marketing Institute/MarketingProfs, July 2021
Content marketing is essential to help manufacturers establish themselves as thought leaders, or as the go-to resource for knowledge of a specific industry, situation or technology. Sharing your knowledge is a great way to get on the radar of new customers and stay top-of-mind with existing ones.
Content marketing is a critical piece in developing a thought leadership position. You want to be seen as the go-to resource when prospects are looking for answers to questions that your products or services solve.
Moving beyond the basics it is important to measure and track your performance. How else will you know whether or not your marketing efforts are paying off?

Putting a tracking plan in place isn't easy and takes a commitment to change your marketing to a high-performing, data-driven and results-focused engine.

Here are 4 ways to transform your marketing with analytics.
Have a vision
Start by envisioning your end goal. You have to know where you want to go in order to get there. Otherwise you're just throwing marketing at the wall and hoping that something sticks. Start by determining a specific set of goals that are clear and concise. You need everyone involved to understand why you are taking your approach and be on board.

Pick 3-5 key metrics to track
Since you've set your goals already, now it's just a matter of picking the key metrics that will provide insight on whether or not you are on track to meet these goals. Track and review these goals consistently and most important… act on them. If you need to, be prepaerd and open to making hanges along the way.
Develop key indicators
Determine the numbers that show you're heading in the right direction, and include things like site traffic, social media followers, email subscribers, etc. Your specific key indicators will be dependent upon the marketing tactics you are executing.
Build a dashboard
Spreadsheets are great for tracking numbers but you are going to want a better way to view your key stats. A dashboard brings all of your metrics and key indicators into a single place so that you can easily understand how things are performing. If something is off or not performing as expected, then you can dive deeper into the numbers.
Metrics That Have Provided Most Insight Into Manufacturers' Content Performance in Last 12 Months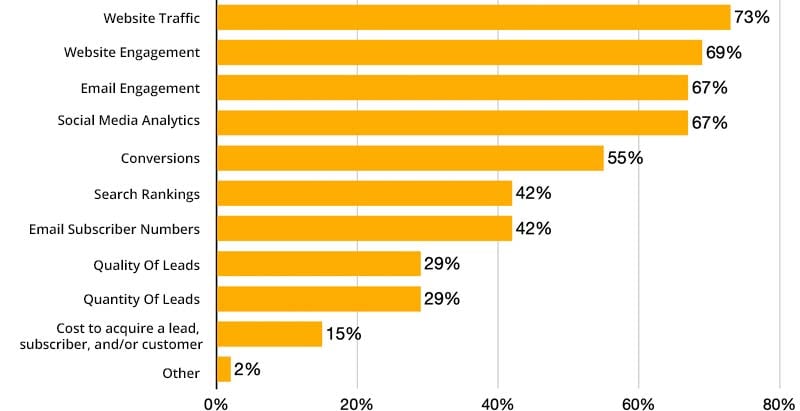 12th Annual Content Marketing Survey: Content Marketing Institute/Marketing Profs, July 2021
It's important to measure and track your performance. How else are you going to know if your marketing efforts are paying off?
At this point your goals are set, your persona's built and you are ready to track and measure performance with your dashboard. Now, it's time to start taking action and engaging with potential customers. Remember that each of the following ideas has you speaking to human beings and not simply marketing segments. Keep it real.

Enhanced email marketing to target distributors
Distributors are valued partners in your market and should be kept informed and up-to-date. Email is a great way to share information about what is happening, upcoming plans and general feedback. Be proactive and share details well before events happen, product changes, updates and new launches. A regularly scheduled newsletter to cover multiple topics and periodic ad-hoc emails to address individual events will ensure that vendors and distributors are informed. Topics might include early looks at new products, product announcements, process changes. Anything that they would find important will be a great topic.

Product & product launch packages
Product launches are exciting, but they are also a point of vulnerability in the product development cycle. When done well they can enhance sales and grow the reputation of your company. Be sure to push the latest product documentation and marketing materials like sales sheets, tech specs, videos, demo, etc. to your distributors as soon as possible. Utilize your website and social sharing to share these as well. A well-rounded strategy will utilize multiple methods of distribution to ensure the information is in the right hands.
Online sales conferences
Sales conferences are a tried and true method of bringing distributors and customers together. But what happens if they are suddenly put on hold like during the pandemic shutdowns? Fortunately there are alternatives that have gained more mainstream acceptance following these disruptions. While people were unable to attend in-person events, digital marketing provided a means of continuing these events online. Virtual tours, lunch 'n learn webinars, live online events, virtual conferences, video marketing and a number of other ideas were put into use and provided a means of bringing distributors and customers together.
Webinars
Webinars are a great way to engage with any group you target providing an opportunity to educate, inform, train, connect and more. While they have been available for some time, the cancellation of in-person events magnified their importance and value

ON24's Webinar Benchmark Report found that the platform saw an increase of 167% in webinar hosting activities.

GoodFirms reported a similar trend with 46.5% of businesses surveyed reporting an increase in Webinar Hosting. (GoodFirms' "Webinars During Covid 19 Survey")
Webinar Usage Pre & Post Covid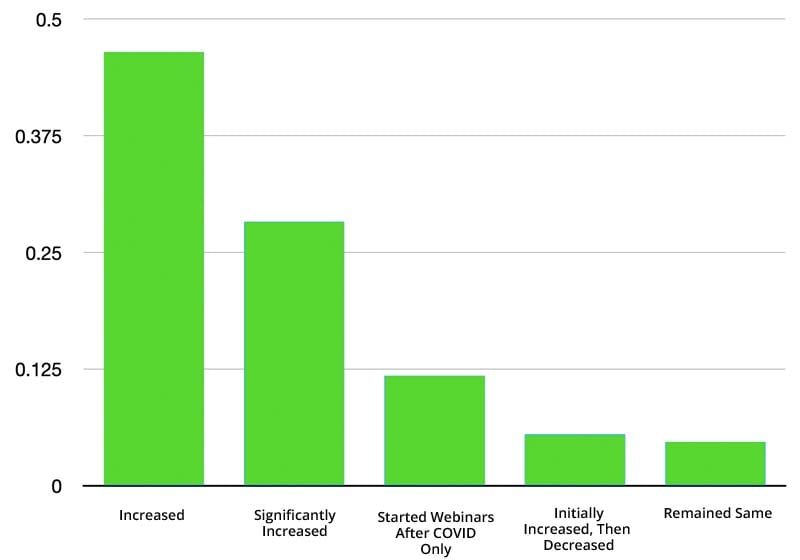 FoodFirms' "Webinars During Covid 19 Survey"

Looking toward the future manufacturers are reinvesting in in-person events, but there will also be an increase in investments for hybrid events.

How Manufacturing Organizations' Investment Will Change

12th Annual Content Marketing Survey: Content Marketing Institute/Marketing Profs, July 2021
Dedicated distributor section on website
Distributors no longer want to rely on printed materials and do not have time to sort through these documents. A dedicated, secured distributor portal serves as a place to house product information, pricing, sales and marketing support and support resources. Include the ability for distributors to easily search, sort and filter the available resources. By helping your partners better service their customers you set your self apart as a valuable resource, strengthening your relationship as a valuable supplier.
Provide tools for feedback
It is important to provide a means for your distributors to provide feedback to your Sales and Marketing teams. Feedback mechanisms should be provided for both digital and non-digital platforms. Plan to always communicate back to the respondents by letting them know that you received their feedback, the status and eventually the response.

Feedback is quality information from your distributors and you want to encourage them to continue providing it. Make sure they understand the value you place on their feedback, both negative and positive.
Create case studies
Case studies are another effective component in a content marketing strategy. They are an opportunity to showcase how your products or services helped a customer in a real-world setting and help prospects envision how you might be able to help them as well.

From a storytelling perspectives case studies allow you to tap into the imagination of your prospects via the traditional components of a case study including:
A description of the customer
A description of the problem/opportunity needing to be solved
Your solution
The benefits to the customer
The results
Customer quotes and testimonials
From a marketing perspective, this allows you to:
Showcase products and services
Establishing credibility
Generate leads
Get active on social
For manufacturers who have not utilized social media or just done so infrequently, getting started can be a little intimidating. With so many social media networks available, it's important to understand which networks are most likely to lead to your leads and help you make sales. This isn't an all-in situation, choose the networks that are most likely used by prospects and existing customers.

Initially you are going to want to focus on a few of the top networks out there including LinkedIn, Instagram/Pinterest, YouTube and Facebook.
Organic (Non-paid) Social Media Platforms Manufacturing Marketers Used to Distribute Content in Last 12 Months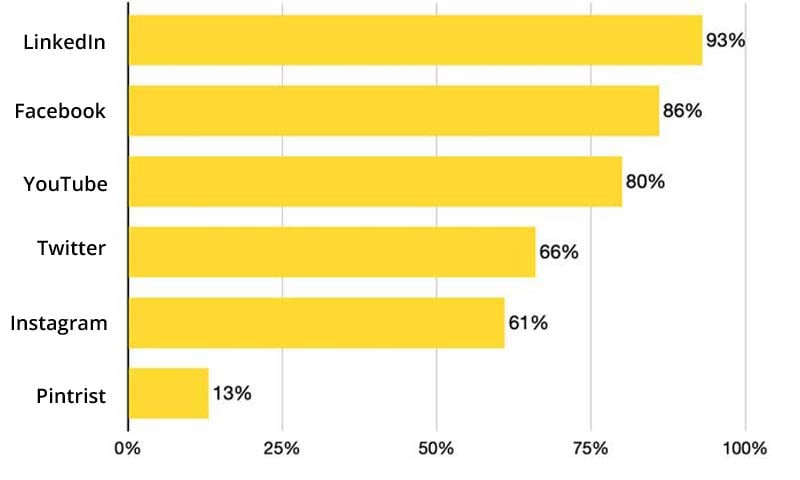 12th Annual Content Marketing Survey: Content Marketing Institute/Marketing Profs, July 2021
Organic (Nonpaid) Social Media Platforms That Produced Best Results for Manufacturers in Last 12 Months (Top 5)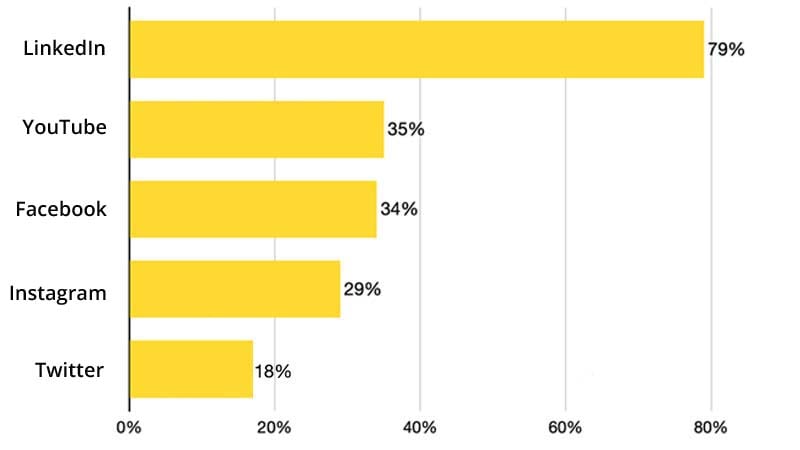 12th Annual Content Marketing Survey: Content Marketing Institute/Marketing Profs, July 2021
Build a blog
A blog is one of the most helpful tools manufacturers have in their content marketing arsenal to build thought-leadership, improve credibility, and connect with prospects, or reconnect with customers and distributors. It's also a great tool to expand your digital footprint and capture the attention of search engines.
Here are some things a blog can help you achieve:
Drive traffic to your website
Nurture and convert customers
Keep existing customers/distributors engaged
Separate yourself form your competition
Build additional content by repurposing blog content
Increase awareness of your products or services
Host a podcast
Podcasts (audio content) help you share information about new products or services, company news and information, industry related information, and build authority in your industry. It's also a great way to help prospects, customers and distributors get to know your company more intimately.
Some of the benefits of podcasting include:
It connects you to an international audience
It provides credibility and authority
It drives traffic
It's re-purposeful into other content marketing pieces
Great form content such as industry talks or interviews
Share Of Respondents In Selected Countries Who Listened To Any Podcast In The Past Month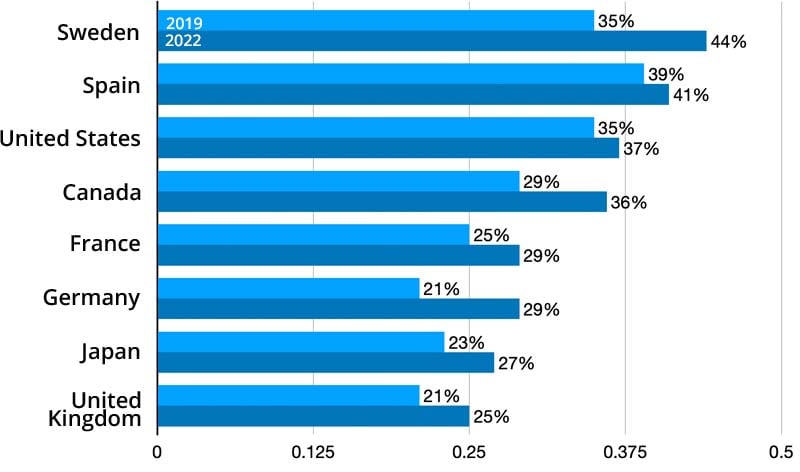 Based on surveys of roughly 200 people per country conducted in Q1 2019 and 2022. Reuters Institute | Digital News Report
Case studies are an effective component in a content marketing strategy. They are an opportunity to showcase how your products or services helped a customer in a real-world setting and help. They allow prospects to envision how you might be able to help them as well.
How Much Should You Spend on Digital Marketing?
That is a pretty direct question. Unfortunately there is no secret formula to determine how much your company should invest in digital marketing. No rule of thumb such as X% of your revenue. So, how do you determine your budget?
Consider these five variables.
Your industry sector
Companies in software or design, high-margin industries, tend to have large budgets, while those in low-margin industries have budgets on the lower end. So the first consideration is dependent upon knowing the budgetary marketing benchmarks in your industry. Marketing isn't likely a new function at your company so you should have some idea of how to budget. You can also reference industry information which is often available from industry association resources.

Your company's size
Larger companies tend to spend a smaller percentage amount of revenue on marketing than smaller companies. For example, if Company A has $100 million in revenue and spends 1% on marketing, they are investing $1 million dollars to build their brand and generate leads. Company B on the other hand, has revenues of $2 million dollars. If they spend 1% of their revenue, they are looking at only $20,000 towards their marketing budget. If they want to compete they are going to need to spend a higher percentage. Investing 2.5% which would provide a budget over $50,000.

Once again there is no formula to determine the correct amount, the important part to understand is that size is simply one of the variables to consider.
The position you desire in your sector
Is your company looking to establish a leadership position in your industry, or is your company lower in the pecking order? It's an important consideration as it's going to take more marketing dollars to establish a leadership position.
Your target market
Who your company targets with your marketing will have an impact on your budget. For example, if you are targeting hospitals CEOs, it's likely to be more expensive than targeting purchasing agents for mid-sized health clinics.
The scope of your operations
Where you target to sell can be a significant cost factor. Are you selling globally or targeting just Canada or the US? By targeting different markets, you will need to budget for marketing effort.
Once you've considered the above five variables, here are two rules of thumbs to also follow:
For the pre-launch, launch and Year 1 of a new product, spend 5% of your Year-5 target revenues. So, if your target is $5 million in sales in Year-5, you should plan to spend $250,000 for the launch and Year 1. Again, consider the five variables above when setting your budget.

As an example, a company that's launching a new product in a mature sector might start with the 5% rule of thumb, then opt for a budget of 3.5% because companies in its sector don't spend heavily on marketing. On the other hand, a young mobile app development firm might need to spend significantly more than 5% in order to gain market traction quickly - knowing that it operates in a sector full of aggressive marketers.
Rot 2: Ongoing concerns (existing, rather than new, companies)
In general, B2B companies that are beyond the start-up phase should consider 2% to 5% of their gross target revenue as a marketing budget. For example, if your target revenue for this year is $10 million, spending $200,000 to $500,000 on marketing is reasonable. Most B2B companies start in this 2% to 5% range, then consider the five factors above to shift up and down, as appropriate.

A technical services company that sells to risk managers in the global nuclear industry might budget more than 5%, given the scope and challenge of its tough-to-reach target market. But a trucking company with $300 million in revenue that has just celebrated its 50th anniversary might be fine with a marketing budget of less than 1%.

Its clear that these are wide ranges, and finding the right budget is dependent upon the five variables listed above. You may find that there are reasons that justify exceeding the 2-5% range. In fact some high margin industries routinely spend up to 15%, while and some low margin industries routinely spend less than 2%.

Consider the different budgets of these two companies.
Company A: Traditional industry
Company A is in a traditional manufacturer that typically doesn't spend much on marketing. With $200 million in sales, they allocate 1.5% of their revenue target to marketing... $750,000. This amount though allows them a large number of opportunities to build brand awareness and generate leads. At under 2%, the company is able to meet its marketing needs.
Company B: Business services industry
Company B, on the other hand is in the business services industry and has a $4 million revenue goal. They have budgeted 10% of their targeted revenue ($400,000) to go towards marketing. Their percentage of revenue is a little more than 6 times that of Company A, but their available marketing dollars are just about 50% of what company A spends. With this budget, it will take a little more creativity to achieve a good return on investment (ROI) on their marketing investment.

To determine the right amount for your manufacturing company evaluate your spend and your results, on a year-to-year basis. Over time, as you collect more data you'll begin to recognize patterns that will help you determine the budget that generates the best ROI for your business.
To determine the right amount for your manufacturing company evaluate your spend and your results, on a year-to-year basis.
Change may not always be easy, but in today's business environment, it necessary for manufacturers and other B2B companies to get noticed.. Customers, distributors and prospects are driving the change. Did they change their behaviours because of what's now readily available online, or did what's now online change because of what buyers are looking for?
Your company has a choice. Continue marketing like you always have, or meet the challenge head on and begin implementing digital marketing strategies and tactics. So what's next?


Review your brand
Is your brand ready to dive into the digital or do you need to evaluate your brand in terms of audience and market? Do you have a set of brand guidelines that are applicable to the online space?

Understand what makes your company and offerings different
Why would someone choose your products or services over your competitors? Simply saying you are better isn't enough. You'll need to be able to clarify and quantify your unique value proposition. "You are not selling the drill bit but rather the hole that benefits the client."

The value your products and services provide should be the star selling points in the messaging you use whether its digital ads, tweets, posts, videos, podcast, case studies and more.
Collect and analyze data and assets
Use your data: Making a decision without data is essential guessing. Every choice you make is going to either make you a dollar or cost you a dollar. Data doesn't guarantee you make the right choice 100% of the time, but it will ensure you make better decisions.

Tap into existing data, as well as implementing new tracking and measurements to support your efforts. Over time, as you gain experience and data, you will be able to narrow down what's important and fine tuning your decision making.

Assets: You should have a collection of marketing assets that have previously been used. Conduct an asset audit to determine what you already have on hand to move forward. This is a great opportunity to repurpose existing content to fit into your new and pending marketing channels. Build out a content calendar that will act as a guide to address what type of content is needed, when it's needed, who is responsible for generating i, and more. This guide in place will help you ensure you are able to produce content on a consistent basis.
Identify goals and expectations
As previously discussed, you are going to develop a set of goals, that if achieved, translate to marketing success. These goals and expectations provide guidelines to your team so that everyone is on the same page.
Create your budget
What Mezzanine can do for you
We've shared the different variables that factor into determining how much it will cost you to establish and manage your digital marketing. One thing that we haven't yet discussed is resourcing this effort. Will you be using your internal resources or need external help?
If you will be using internal resources you will need to determine whether or not your team has the needed skills or whether you will need to hire new personnel. The costs here will depend upon internal employee costs along with the current market for said professionals.
The alternative is to bring in an experienced marketing agency such as Mezzanine Growth to handle your digital marketing. The cost is dependent on the scope of work you need.
Mezzanine Growth partners with manufacturing companies to build their growth engines, which generate leads with measurable ROI and drive sustained growth. We offer strategic guidance and hands-on execution, to deliver lead generation campaigns and develop your people, processes and technology to sell your complex products, services and solutions using our proven framework.
We have worked with more than 250 B2B companies of all sizes. We understand long sales cycles and have the expertise to attract attention to your company.
We deliver lead generation programs that we call Growth Engines, our proven framework.
Together, we can develop your Growth Engine to:
Raise awareness about your company
Build your company's credibility and reputation
Generate leads among new and existing customers
Nurture opportunities, and
Help your salespeople convert prospects to new customers.
We are based in Ontario, Canada, but our team is available to help guide your company, wherever you may be across North America.
Start building your growth engine today, and book a call to discuss your business and objectives. We'll identify opportunities to increase your lead generation. If we don't think we can make a significant impact on your sales, we'll suggest other options to help you reach your goals.
Successful marketing for manufacturers requires time, headcount and budget. Your manufacturing competition is getting better at marketing, and if you want to compete, you can't be half-hearted about it. You need to strategically drive growth and bring in more qualified leads. We can help you start your growth engine today.